Hudson Messages,
October to December, 2006
Send a personal message to Hudson and other Hudsonites.
Add your message here.
Your newly posted message will appear shortly.
To look for a specific name or subject, use the search feature.
Commercial or other inappropriate messages and messages not related to Hudson will not be posted. We can't answer questions about Hudson businesses or facilities.
---
My husband and I are in the preliminary stages of looking at moving to Quebec; my husband is French and I am Anglo. My husband's background is Civil Engineering, and I am finishing my Family Medicine Residency this year. We are interested in any opportunities in your region. Do you know whom I can contact for further information? Thanks so much,
Jennifer Minsos Kukla<j_kukla@shaw.ca>
Friday, January 19, 2007 at 18:54:16 (EST)
---
à diane boulard:
j'ai vu ton nom et ton adresse e-mail sur le site de hudson p.q. est tu vraiment la petite diane, la soeur de suzanne, gerry, jane. ta mère s'appelais audrey mielke et ton père gerry boulard. tu venais chez tes grand'parents a como quand tu étais petite??? si c'est bien toi j'aimerais avoir de vos nouvelles, qu'es ce que vous avez fais dans la vie?? je suis rendue a 70 ans actuellement.
by louise proulx brasseur<dial@porchlight.ca>
Vaudreuil-Dorion, Que. Canada - Thursday, December 28, 2006 at 18:30:06 (EST)
---
Hi all, A small group of HHS Grads are planning an informal reunion at the Chateau Du Lac on November 25th, 2006. There are no grad year restrictions, though we would love to meet up with grads from 1980-1990!
Pamela Jesty <
rich@sympatico.ca
>
Pointe Claire, Que Canada - Thursday, November 09, 2006 at 13:33:26 (EST)
---
My name is David I moved to Hudson in 98 from South Carolina Wow, I never thought this little town would have a web site. anyways were should I start, I'm not sure if anyone remembers me but i went to Hudson High School, and graduated in 2000, well my french wasn't passing. but I got though some how. before living in Hudson for a few years we would always visit our small summer house on 596 Main rd. Hudson in a great place for a kid to grow up, but to be honest, a great place for a kid to get on the wrong track really fast. I think in one way or another I was really lucky to have joined the German Army in 2000, then later the S.F. in the end of 2001. I am now attending the University of Hamburg and by the end of this year hoping to have finished my masters. I don't really know how many people read this in Hudson that are my age (25). But it would be nice to see how we all turned out. I am sorry to here about what happened to James R. didnt really know him but I took a lifeguard course at the pool with his sister Jess. Everyone who lives in Hudson are all part of a big family in one way or another, and everyone knows everyone, which could be good, or bad. Like I said it would be nice to heir for some of my old friends from back than or some info. And it would be really nice to heir how Tyler T. James H, Rabo, Panzy, J.R. Brad F, Nick W, Janis F, Lindsay S, Kelly R, etc.
David Schmidtner <
dwerner@wm-p
>
Blankenese, Hamburg Germany - Tuesday, October 17, 2006 at 07:31:01 (EDT)
---
Then and now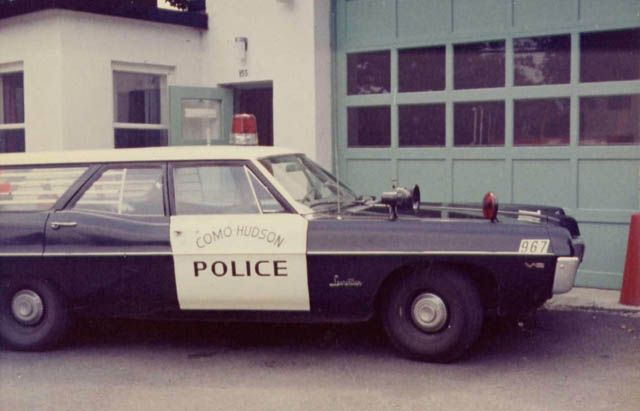 Back in the late 1960s there was a separate Como-Hudson Police Department with Doug Tetro as its director. The police car/ambulance was this black and white station wagon, while behind it, the doors of the fire hall were green. The fire trucks were all painted red. Photo courtesy of Rod L. Hodgson
PS If anybody knows harold Benson please tell him to visit this site
Thanks
Dave Kilpatrick
Dave Kilpatrick
<
delta_bravo_1kilo@yahoo.ca
>
selkirk, on canada - Friday, October 13, 2006 at 14:03:46 (EDT)
---
1:30 AM. Just refound this site when I should have been going to bed. Was neat to read familiar names(my sister's included) & hear how people feel about our village. I still call Hudson my Village even though I have been living in Vankleek hill, Ont since 1977.But it's true, Hudson people always come back to Hudson. Growing up in Hudson was great I loved it. It was special. I became a crazy artist & I am still very addicted to my painting. In fact I am having an exhibition in old Montreal at Galerie Kezia, 421 St Paul Street East, November 19th which feels pretty good. It would be neat if some of you came in to see it. But I have been such a hermit, I might not recognize some of you. I only got to HYC once this summer! Great web page..keep on trekking. Susan of the Hill
Susan Jephcott
Vankleek Hill, Ontario Canada - Tuesday, October 10, 2006 at 01:34:06 (EDT)
---
Hello, I am returning to Hudson for my wedding in the spring or summer and wondered if anyone could remind me of a nice location for the reception besides The Willow Inn or Mon Village. Maybe a B&B or a historical house with garden. Any suggestions would be greatly appreciated. Thank you for the help.
Karney Simpson <
karney@shaw.ca
>
Calgary, Ab Canada - Sunday, October 08, 2006 at 23:56:31 (EDT)
---
Hi Everyone, I grew up in Hudson and still live here. Ironically, I am now a grade 5 teacher and Mount Pleasant. One of my students asked me " Was the road Mount pleasant named after the school, or was the school named after the road?". I didn't know and thought that the history of mount pleasant may be an interesting class project; however I am not sure if my students will have success finding any info. If you can help, I would love to hear from you!
Toni Rikley <
tonilrikley@gmail.com
>
hudson, Qc Canada - Thursday, October 05, 2006 at 21:55:53 (EDT)
---