Virtual Hudson
The town of Hudson, Quebec, its places, people and businesses online.
Hudson Heights Post Office Renovated
January 2007, subsequently updated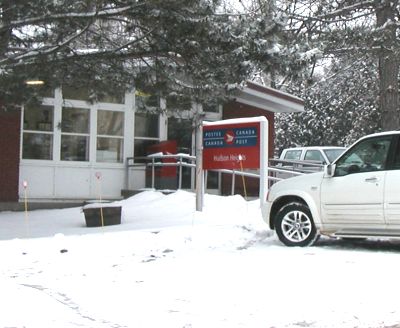 It has become clear that, whatever else Hudsonites will put up with, you can't mess with their post office, especially not with one as cute as the J0P 1J0 Hudson Heights Post Office. The official story is that it was due for renovations and it didn't look good because you could see into the back and see shelving etc. In addition the staff is supposedto have more room according to updated Quebec labour standards.
So the back was closed off but that didn't leave much room in the front. Possibly that's why the counter has gone or maybe the new look doesn't include counters. In any case, the public area is now the size of a closet and, during Christmas, patrons had to line up outside because of the limited space.
So petitions are being signed, newspaper articles are being written and Canada Post is getting complaints. Just as well since the post offices are only going to get more crowded as the remaining rural route mailboxes are phased out. While some west end residents still get delivery to their individual road side mail boxes, no new ones are being allowed. New residents must get a post office box. Every time someone moves away, their road side mailbox disappears and the new residents end up at the post office. No wonder it seems to get more and more crowded.
We can only hope that the J0P 1J0 residents are successful in getting a re-renovation. Otherwise the rest of Hudson might be facing a similar situation at the Hudson post office soon. There too you can see into the back and a nice large counter is there for the convenience of customers and staff. Will the new look be imposed there too?